Schapiro Hall
Schapiro Hall houses mostly juniors and seniors in singles, as well as some sophomores in doubles.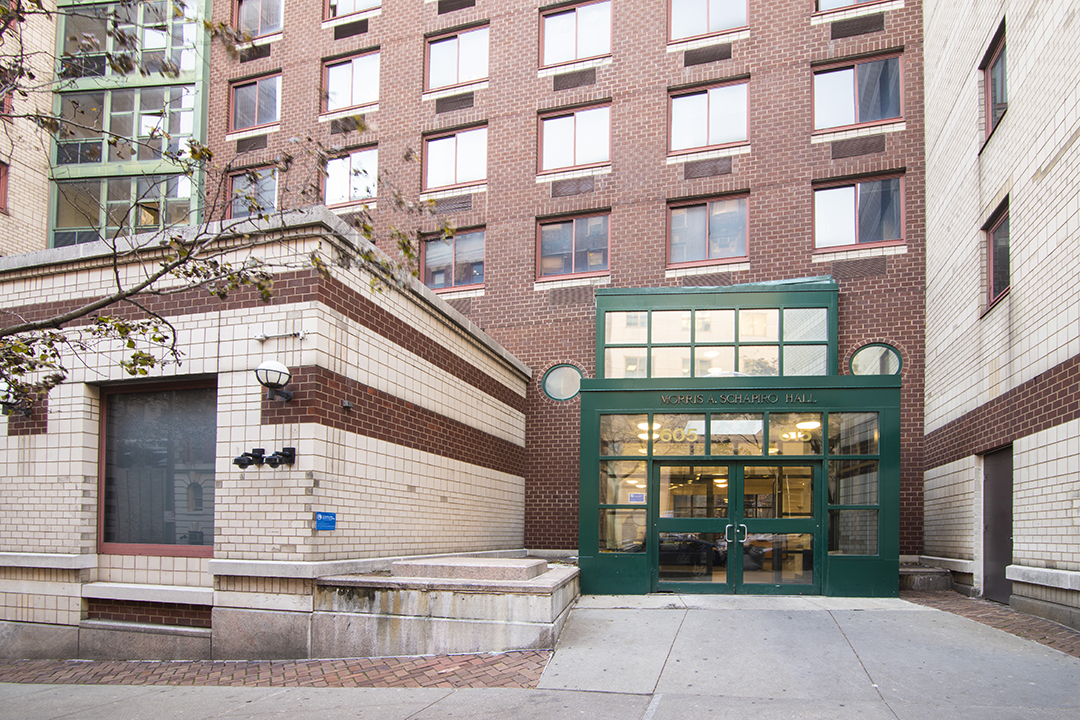 Building Fast Facts
Upper floors have expansive views of the city
Sky lounge on the 17th floor has beautiful views of the Hudson
Music practice rooms in basement
Faculty-in-residence: Samuel Roberts, Associate Professor of History and of Sociomedical Sciences
Outdoor courtyard space is available to residences year-round
Room Selection 2022 Data
Room Selection 2022 data shows that the students who selected into this building were 64% juniors, 29% sophomores, and 7% seniors.
74% of students who selected into this building participated as part of a group.

13% were in mixed-point groups with an average point value of 29*
2% were in rising seniors groups
55% were in rising juniors groups
29% were rising sophomores groups

Rising sophomores primarily chose into doubles
*This point value is adjusted to reflect the changes in point value effective for AY 23-24 Room Selection.
Please keep in mind that class make-up in each building varies year to year based on student preferences. This should not be used as predictive data for the upcoming academic year.
Building Details:
Housing Rate:

Entrance Location:

605 W. 115th Street 

Number of Residential Floors:

15

Single/Double Rooms:

245 singles / 85 doubles

Air Conditioning:

Yes

Bathroom Style:

Shared, gendered bathrooms are available on each floor.

---

A single-use, gender inclusive ADA bathroom is available on floors 2 through 9. 
Bathrooms: Daily, Monday - Friday, by Facilities

---

Kitchens: Daily, Monday - Friday, by Facilities

---

Trash & Recycling: Residents are responsible for disposing their waste in the trash chutes (small bags of trash) by the elevator or the bins (larger items and recycling) in the lounges

Flooring:

Hard surface

Furnishings:

All rooms are furnished

Type of Room Lock:
Bike Storage:

Not available. See the list of bike storage locations in our residence halls.

Clothing Donation Bin:

Located in the lobby

Computer Lab & Print Station:

Computer lab is available on ground floor. Print station is not available. See the list of computer labs and print stations in our residence halls.

Fitness Room:

Not available. See the list of fitness center locations in our residence halls.

Kitchen:

One shared kitchen lounge on each floor. Kitchens do not have a fridge.

Laundry:

Free laundry facility in basement

Lounge:

Kitchen lounge with cable TV on each floor

---

Building lounge on ground floor

---

Sky lounge on 17th floor 
What former residents say:
"Schapiro is equipped with excellent amenities – carpet flooring in the hallways, a common lounge, a kitchen, adequate bathrooms, music rooms, and of course the sky lounge! Schapiro had a lovely off-campus feel for me, which was a good break from the intensities of on-campus first-year living." 
Take a Video Tour: