Hartley Hall
Starting AY 23-24, Hartley will be mostly sophomores with some first-years on one or more floors. Hartley provides convenient access to Columbia Dining locations, Columbia Health offices, the south lawns, and shops and restaurants near campus.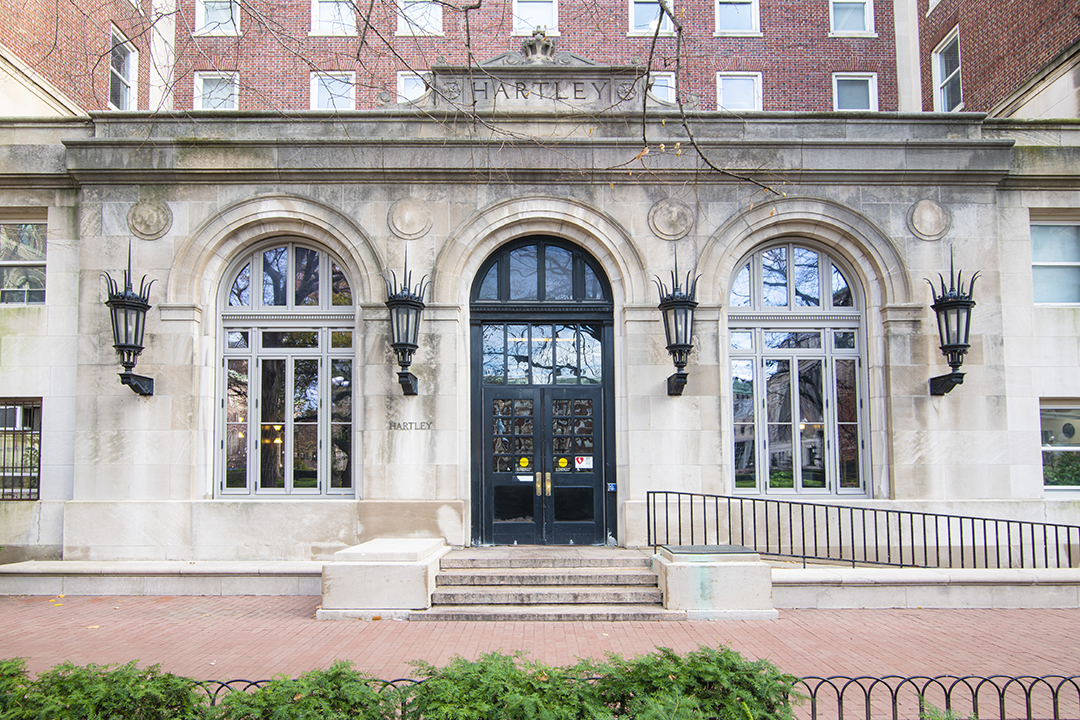 Building Fast Facts
John Jay Dining Hall, JJ's Place, and Columbia Health Medical Services are located in close proximity
Expansive views of Morningside Campus and the historic Harlem neighborhood
Located in the heart of campus
Columbia Housing office and Hospitality Desk are located within Hartley
Faculty-in-Residence: Professor Kymissis, Department of Electrical Engineering
An opportunity for sophomores to live almost exclusively with their class
Suites are duplexes
Room Selection Data
Academic Year 2023-2024 will be the first year that Hartley will be available for sophomores during Room Selection. As such, there is no available data.
Building Details:
Housing Rate:

Either First-Year or Upperclass Rates depending on class of student.

Entrance location:

Inside campus between 115th and 116th Streets

Elevators:

2

Number of residential floors:

9

Single/Double Rooms:

158 singles / 36 doubles

Air Conditioning:

Yes (permanent window units)

Bathroom Style:

Semi-private within suite

Cleaning Responsibility & Schedule: 

Bathrooms: Twice weekly by Facilities

---

Kitchens: Resident responsibility

---

Trash & Recycling: Residents are responsible for disposing of their waste in the trash chutes (small bags of trash) by staircases Z & W or the bins (larger items and recycling) in the lounges 

Flooring:

Bedrooms are a mix of hard surface and carpet

---

Common areas in suites are carpeted

Furnishings:

All rooms are furnished

Type of Room Lock:
Bike Storage:

Not available. See the list of bike storage locations in our residence halls.

Clothing Donation Bin:

Located in the Hartley/Wallach laundry room 

Computer Lab & Print Station:

Available on the first floor

Fitness Room:

Not available. See the list of fitness center locations in our residence halls.

Laundry:

Free laundry facility in basement. Laundry room is shared with Wallach Hall.

Kitchen:

One private kitchen per suite, no refrigerator available.

Lounge:

A large building lounge with a game room (pool and ping pong) is available on the first floor

---

A study lounge is located on the 10th floor

---

Each suite has common area equipped with TV
What Former Residents Say:
"Hartley is not only a nice place to live, but has a convenient location. Just downstairs in the lobby is the Hartley Hospitality Desk, a CUIT computer lab, and a lounge with pool and ping pong tables! In addition, it only takes two minutes to get to classes in Hamilton."