Carman Hall
One of Columbia's dedicated First-Year residence halls, Carman is conveniently located adjacent to Lerner Hall. All residential rooms and lounges were renovated in 2020.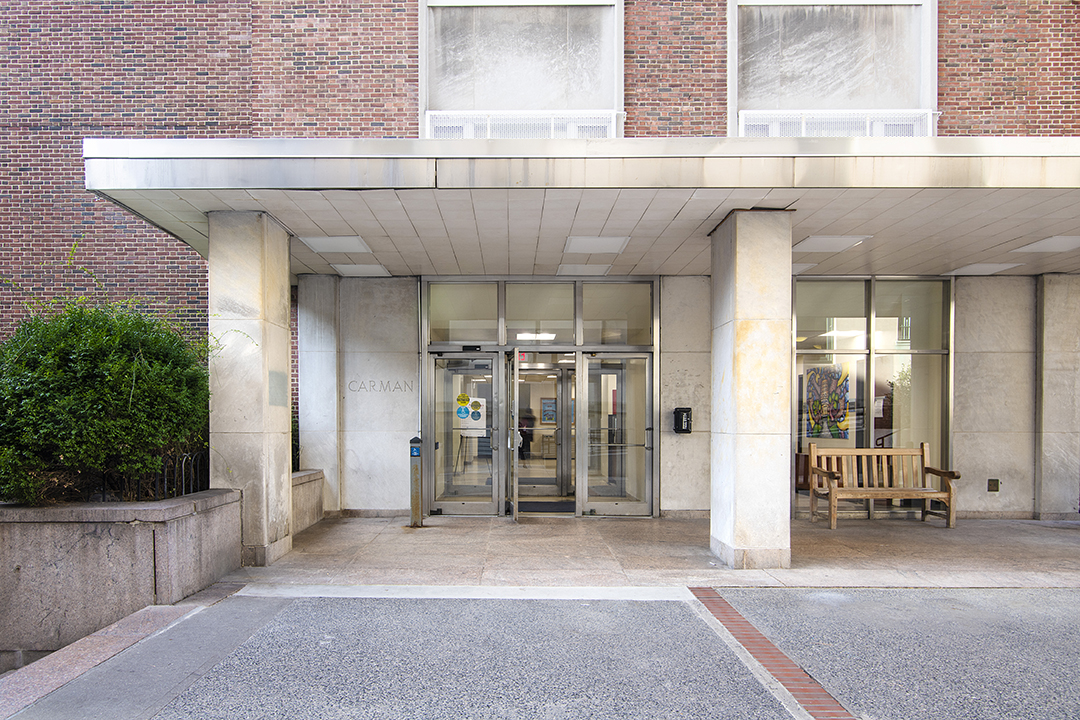 Building Fast Facts
Close proximity to Ferris Booth Commons, Lerner Hall, and Butler Library
Beautiful views of campus
Spacious, well-lit rooms
Lounge renovations completed in 2020
Building Details:
Housing Rate:

Entrance location:

Inside campus through gates on West 114th Street between Broadway and Amsterdam Avenue

Elevators:

2 passenger; 1 freight

Number of residential floors:

13

Single/Double rooms:

13 singles (Resident Advisers) / 287 doubles

Air Conditioning:

Yes

Bathroom Style:

One semi-private bathroom is shared per two double rooms

---

A single-use gender inclusive bathroom is located in the first floor lobby

Cleaning Responsibility & Schedule: 

Bathrooms: Resident responsibility

---

Communal building kitchen: Once weekly by Facilities

---

Trash & Recycling: Residents are responsible for disposing of their waste at the waste station in hallways waste in the hallway trash bins.

Flooring:

Hard surface

Furnishings

All rooms are furnished

Type of Room Lock:
Bike Storage:

Not available. See the list of bike storage locations in our residence halls.

Clothing Donation Bin:

Located in the basement

Computer Lab & Print Station:

Available on the first floor

Fitness Room:

Available in the basement and equipped with cable TV

Laundry:

Free laundry facility in basement

Kitchen:

A shared kitchen with a microwave is available in the basement. No refrigerator available.

Lounge:

A floor lounge equipped with cable TV service is available on each floor. Some lounges also have microwaves

---

A shared building lounge is available in the basement.
What Former Residents Say:
"Spacious and well-lit rooms with a great 4-to-1 bathroom ratio. [Carman Hall has an] excellent location, and the setup is conducive to meeting new people—all important during [your] first year."
---
"Carman was the perfect hall for me my first-year at Columbia. It was extremely social; everyone was always in the hallways and lounges talking, watching TV, or just hanging out. It is very difficult to feel isolated in such a lively dorm."
---
"Carman Hall was an awesome place to live. The best friends I made at Columbia were made on Carman 7."