FALL 2022 CHECK-IN
Check-In preparations are underway. This page will serve as your hub for all Check-In information for upperclass, transfer, Combined Plan and exchange students and has been updated following the July 28 email. Pre-arrival reminders will be shared in August.
In the meantime, please review the information and resources below. We can't wait to welcome you to a new academic year at Columbia!
Information about Check-In for first-year students is available here.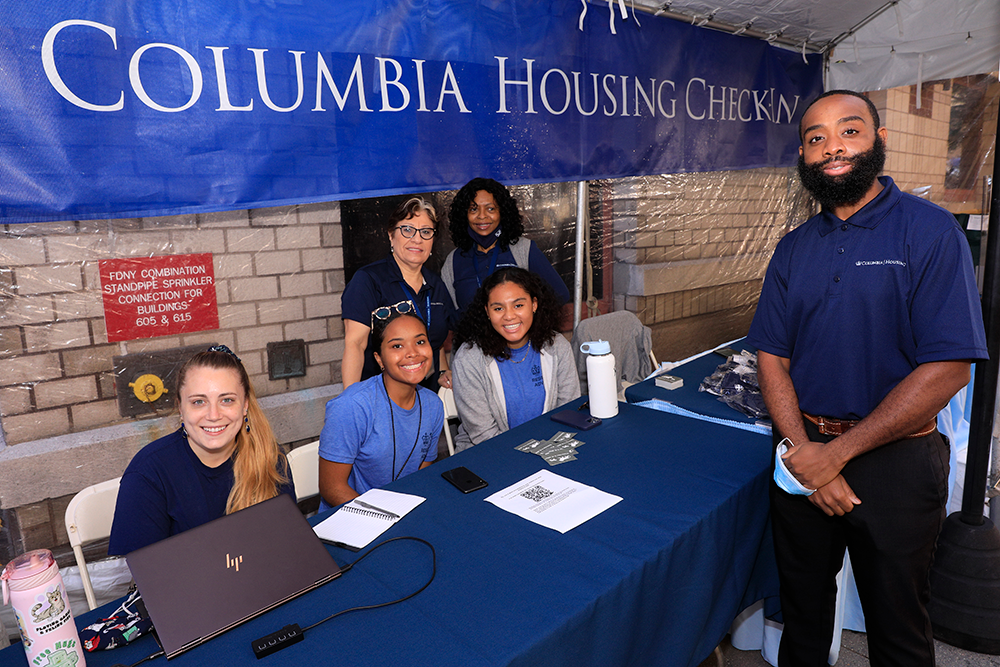 WHAT TO EXPECT AT CHECK-IN
Upperclass Students
Check-In for returning sophomores, juniors, and seniors is on Friday, September 2
If you contracted with a storage or moving vendor, you are responsible for coordinating the delivery of your items. Please have them delivered to your residence hall. You must be physically present to meet your vendor. Vendors will need to sign in at the Public Safety desk.
Transfer, Combined Plan and Exchange Students
Check-In for transfer, Combined Plan and exchange students is on Tuesday, August 30
Transfer, Combined Plan and exchange students can arrive at any time between 8:00 a.m. and 1:00 p.m. on August 30.
Late Arrivals
If you arrive after 1:00 p.m., proceed to the Hartley Hospitality Desk to Check-In.
Check-In locations vary by building.
Check-In tables will be staffed by Columbia Housing. When you arrive, you will pick up your CUID. Your CUID will be encoded with your room and building access and will function as your room key. 
In June, students received their room assignment from Columbia Housing. You can also see your assignment in the homepage sidebar of the Housing Portal. 
Information about moving bin rentals will be provided in July.
The WIR is an online report that records the conditions of the room and furniture at the time of Check-In. It serves as the basis for charges for any damage and/or loss attributable to the resident during occupancy. The WIR will become available through the Housing Portal once you have checked in and must be completed within 48 hours of Check-In or by September 7, whichever is sooner. 
Learn more about the WIR. 
Welcome to Academic Year 2022-2023!
Below are some resources that you may find helpful as a resident in Columbia Housing:
CHECK-IN SERVICES AND OTHER INFORMATION