About Columbia Housing
An important part of the Columbia undergraduate experience is living in a Columbia Housing residence hall. It provides students with a safe and supported environment as they pursue their academic goals, while also forging meaningful friendships and transitioning to independent living in an urban campus.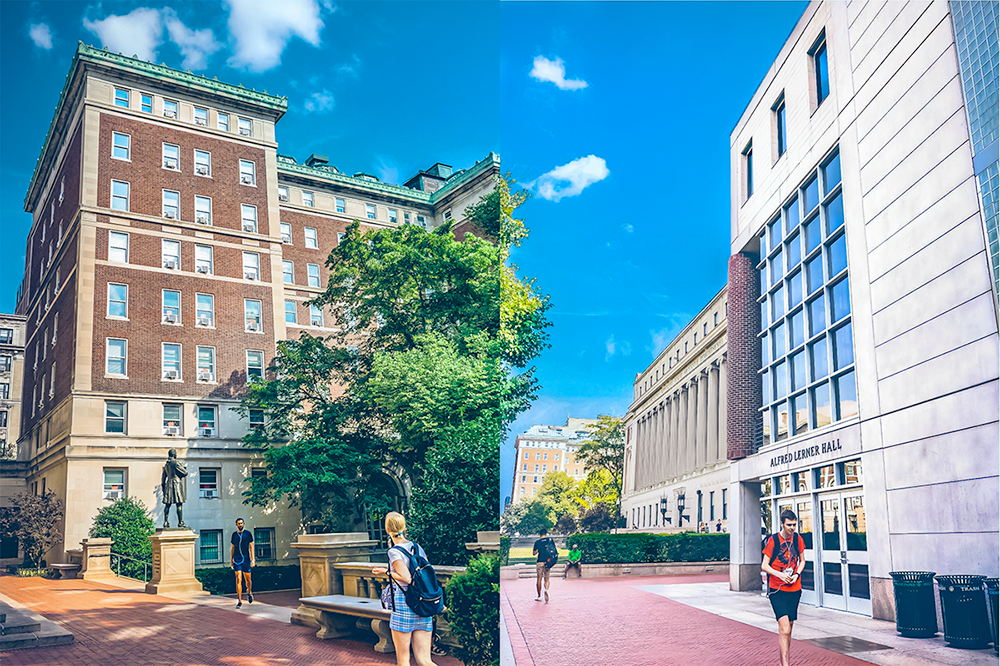 Views of South Lawn: Students heading to and from Hartley Hall, the location of Columbia Housing's offices and the Hartley Hospitality Desk, on the east side of the lawn; A student walking past Lerner Hall towards Broadway, with Butler Library in the distance.
Columbia Housing guarantees housing for all undergraduates (except 2nd Year Combined Plan students and visiting students) who file their intent to reside on campus and who remain continuously registered as full-time students. First-year student life begins on what is called "South Lawn", an area at the heart of the main Morningside Campus. South Lawn is surrounded by the University's main library and adjacent to Columbia's student center — Lerner Hall. Also in close proximity to the first-year buildings are the Columbia Health offices and all three of Columbia Dining's main dining halls.
Situating students, whether they are new to Columbia or New York, in this central and convenient location helps them make a comfortable transition from their home life to campus and is enhanced by the constant support of Columbia Residential Life, whose trained Resident Assistants (RAs) live among the students in the halls. Residential Life works to create an atmosphere conducive to educational pursuits and the development of community among the diverse student body. Throughout the year Residential Life staff present programs in the residence halls and off-campus that are both social and educational.
Each spring, rising sophomores, juniors and seniors participate in Room Selection, a process that allows students, either individually or with a group of fellow undergraduates, to select their living space for the upcoming fall term. Room Selection is conducted by a lottery process, providing an equitable way for students to select rooms that also takes seniority into account. To accommodate all students who want to live on campus, students who take an unauthorized leave of absence and cannot participate in Room Selection are placed on a non-guaranteed waitlist upon their return and are assigned housing if space is available.
Columbia Housing offers a variety of living options to meet student's needs, with most sophomores living in singles or doubles in corridor-style buildings while many juniors and seniors transition to living in groups within suites or apartment-style options. Students can also choose to join one of a number of Special Interest Communities or Fraternity & Sorority organizations, both who have dedicated space in brownstone-style buildings near campus. Regardless of a student's interests or preferred living arrangements, they are sure to find a residence hall with great amenities, from building and floor lounges, to shared floor and in-suite kitchens, plus exercise rooms and quiet study spaces — all students will be able to find a spot that feels like home.
All residence hall options can be explored in detail in the Residence Hall Directory available here on the Columbia Housing website. Additionally, the Columbia Housing Guide to Living provides a comprehensive overview of the policies and guidelines students are expected to abide by while residing in Columbia's residence halls, as well as their rights as residents and the benefits and services available to them while living on campus.