OUR TEAM
Columbia Housing offers students a unique opportunity to make the undergraduate residences home and build a close sense of community within the reach of all that New York City has to offer. Housing is provided for approximately 5,600 undergraduate students across 19 undergraduate residence halls and 18 brownstones. Our organization houses traditional residential students as well as special living communities, located on and around our Morningside campus. Learn more.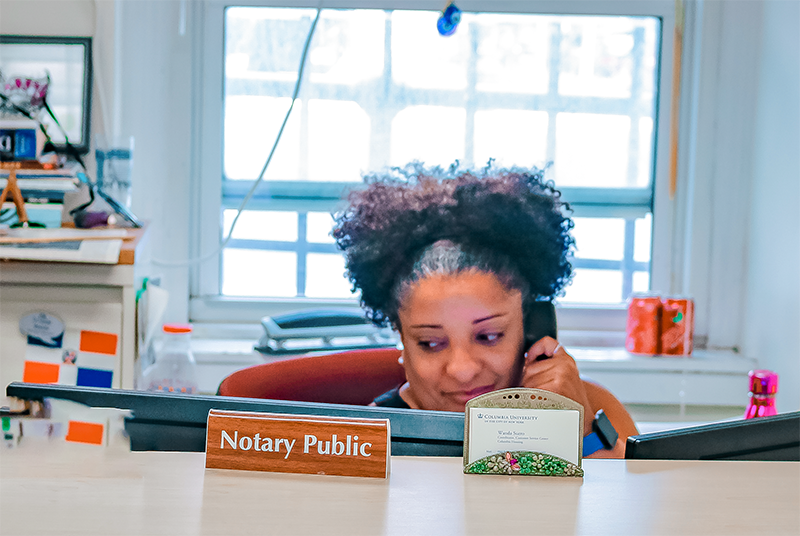 Staff Directory
Sophia Cocke joined Columbia Housing in January 2023 as Associate Manager, Housing Systems and Operations. With 4 years of experience in digital outreach on political campaigns and 10 years at Apple, she has a strong background in project management and process and instructional design. She looks forward to leveraging these skills in her role managing Housing operations.

Originally from Franklin Lakes, New Jersey, Sophia holds a Bachelor of Arts degree in Political Science from Virginia Commonwealth University. Sophia is passionate about providing students with an enjoyable experience while staying in Columbia Housing, and she is committed to ensuring smooth operations behind the scenes.

Natasha Infante is an Assistant Manager for Guest Services in Columbia Housing.
 
As a member of Guest Services, Natasha works with the Hartley Hospitality Desk team and partners with various on campus departments to ensure residents have a safe and enjoyable experience. She assists residents with any concerns and responds to their requests in a timely and efficient manner.
 
Natasha holds a Bachelors of Science in Global Supply Chain Management from Clarkson University. She joined the Columbia Housing team in the fall of 2022 and calls the Bronx home.

Mia DeLuis Zayas is Manager, Housing Services. She helps to manage housing assignments for undergraduate students during the academic year and outside guests during the summer and conference season. In this role, Mia works closely with partners across the University, including Residential Life, University Life, Public Safety and Facilities to help ensure our residents have a safe and comfortable place to call home while at Columbia. Mia officially joined Columbia Housing in 2021, but has been with our team since 2019 when she joined as a student worker.

Mia graduated with a B.A. from Columbia University in 2020, double-majoring in Ethnicity and Race Studies (with specialization in Latinx Studies) and Educational Studies. As a student, she was heavily involved in the Native American Council, Student Organization of Latinxs, and Sigma Lambda Gamma National Sorority, Inc.

Mia was born and raised in Camden, NJ by her parents, both of Puerto Rican descent. Outside of work, she loves to explore coffee shops, exercise, and make plans for her next travel destination.

As the Director of Housing Operations and Systems, Menlee oversees the staff that manage Housing systems and reporting, serves as the main liaison to Facilities Operations, and supports our third party vendor relationships. Menlee began working with Columbia in 2013 as a member of the Lerner Operations Team.

Menlee received a B.A. from Columbia University in Political Science. He is currently serving in his first year as the 2019-2020 Vice President of the Columbia Black Alumni Council, and volunteers as a mentor for a Columbia founded non-profit organization. He is an active alum and remains committed to improving the Columbia experience wherever possible.

As the Executive Director, Housing Services and Student Center Operations, Lorena works closely with partners across the University including Student Life, Residential Life, Campus Operations, Public Safety, Dining, Environmental Stewardship, and others. Her responsibilities to include academic year, summer, and conference housing assignments and related activities for our 6,000 undergraduate residential students and many guests. She began her career at Columbia University in 2012 as part of the Lerner Operations Team.

Lorena holds a Bachelor's Degree in Civil Engineering from The University of Connecticut and a Master's Degree in Sustainability Management from the Columbia University School of Professional Services. Her experience at Columbia, both as an officer of the University and a student/alum inspires her to continuously strive to impact positive change within the campus community.

Lenwood James is an Associate Manager for Guest Services, working with the team Hartley Hospitality Desk team. He has been working at Columbia University for 18 years. Columbia Housing has introduced him to people from all parts of the world, and all walks of life. Lenwood says, "The customer service and communication skills that I have learned here have helped me in many facets of my life." In his free time, Lenwood is the Commissioner of the NYC Metro Baseball League, New York City's premier non-profit Adult Baseball League.

Lamar joined Columbia University in June 2021 as Assistant Manager, Guest Services. In this role, he oversees the Hospitality Desk and acts as a liaison between students and our campus partners.

Lamar holds an MBA from Monroe College-New Rochelle and is is a certified CH-47 helicopter mechanic for the New York Army National Guard. His roles within the National Guard requires an intense focus on safety, accountability, and readiness as well as a thorough understanding of how to handle and protect sensitive information--skills and knowledge that Lamar in turn brings to Columbia to benefit our Hospitality Desk staff. 

As the Assistant Director of Housing Systems, Justin leads strategic planning and improvement projects for systems and technology across the department. Justin works closely with campus partners and vendors to ensure our technology meets the needs of Housing. Justin's primary goal is to transform our technology and systems into a best-in-class operation while improving student satisfaction.

Before joining Columbia, Justin helped build two successful companies and acted as a consultant to help other firms manage personnel and other operations during periods of rapid growth. He also assisted several venture capital firms in gathering market research and performing company analysis. Justin hopes to leverage this experience and "start-up" mentality to Columbia Housing, developing creative solutions to improve our operations and services.

Justin received a BA in History from the University of New Orleans. In his personal time, he is an avid reader, as well as a fan of movies, television, and cycling.

John Pezzolla is the Associate Director of Management Operations for Columbia Housing. In this role, he works with the Hartley Hospitality Desk team in supporting students' day-to-day experience in the residence halls. 

Prior to Columbia, John spent the majority of his career in operations for the summer camp industry. He holds a BA in History from the State University of New York at Albany.

John volunteers to support veterans affairs, as well as the Serious Fun Children's Network. Born and raised in Upstate NY, he is an avid traveler, hiker, and die-hard Cleveland Browns fan. 

As Director of Guest Services, Jennifer oversees the Hartley Hospitality Desk to support the delivery of housing services to students. Jennifer oversees the training, staffing, policies, and management of the Hartley Hospitality Desk and team, and is responsible for our students' day-to-day experience in the residence halls. She works closely with Student Life, Residential Life, Campus Operations, Public Safety, Dining, Environmental Stewardship, and other related University partners.

Jennifer began working at Columbia University as a member of the Lerner Operations team in March 2015. She holds a BS in Business Management from Bentley University and a MS degree from Columbia University School of Professional Studies, with a concentration in Negotiation and Conflict Resolution. She is currently enrolled in the MBA, Executive Program at Columbia Business School with expected completion of May 2024. 

Honey Sue provides vision, organization, and leadership to the operation of Columbia's undergraduate residence halls and Alfred Lerner Hall, the student center.

This broad scope of work encompasses short and long-term capital planning of the physical assets, custodial and maintenance, and guest services for student residents, visitors, and administrators. With her team, Honey Sue aims to provide a consistent, easy to navigate, and rewarding campus experience.

In addition to these responsibilities, Honey Sue manages Columbia's Trademark and Licensing program and several on-site services provided by contracted vendors. Honey Sue has served in various leadership roles during her tenure at Columbia. Most recently, she served as executive director of Business Services. She holds a bachelor's degree from Washington University in St. Louis.

Glen started at Columbia University as an Associate Manager, Guest Services in August 2020. As Manager of Housing Operations, Glen serves in a cross-functional capacity to manage operational functions across all areas of the Housing department including Guest Services, Assignments, Internal Operations, and Seasonal Operations.

Glen holds a B.S. in Hospitality Management from New York City College of Technology. He previously worked at Union Square Events as the Operations Manager at The Shed where he liaised between USE's onsite Food and Beverage operations. This included oversight of the retail bar operations, catering, Cedric's at The Shed restaurant, facilities, IT, security, and local union teams. 

Frances is Manager, Housing Services. She is responsible for extensions, early arrivals and interim assignments. Frances also coordinates SIC and FSL Housing for the academic year.

Frances joined Columbia Housing in 2006. She previously worked at Citibank, Scotiabank, and the non-profit organization Children International. Frances studied at the Universidad Catolica Madre y Maestra in the Dominican Republic and is currently enrolled in the Columbia University School of General Studies. 

Charlie Tatis is Assistant Director of Housing Services, overseeing the undergraduate housing assignments process throughout the academic year with the goal of ensuring that students are assigned to rooms or suites that meet their needs and positively impact their Columbia experience. During the summer months, Charlie also manages our Summer and Conference Housing programs, providing space in the residence halls for guests attending a variety of conferences and events on campus, including accommodations for guests of graduating seniors during University Commencement and annual reunions hosted by the Columbia Alumni Association. In addition to all this, he is pursuing a Bachelor of Science Degree in Sports and Recreation from Lehman College. 

Charlie began working at Columbia University in 2017 as Assistant Manager of Operations at Alfred J. Lerner Hall, Columbia's official student center, and joined the Columbia Housing team in 2021. Supporting his success in both roles have been the close relationships he has fostered with partners across the University including, Student Life, Residential Life, Campus Operations, Public Safety, Dining and Environmental Stewardship.

Charlie was born and raised in the Bronx to Dominican parents and takes pride in his family's culture and traditions. In his free time he loves watching basketball and baseball, and is an avid and lifelong fan of both the Yankees and the Lakers.

Beth joined Columbia Housing in March 2023 as Assistant Manager, Guest Services. In this role, she oversees the Hospitality Desk, assisting residents with any questions and concerns during the overnight shift.

With over a decade of experience in various customer service roles, primarily in banking, Beth brings strong conflict resolution and time management skills to her position. She is dedicated to providing exceptional guest services and looks forward to building positive relationships with residents. In her free time, Beth is a passionate animal lover and kitten foster.

Afshan acts as the on-site daytime department liaison with Facilities, Residential Life, and Public Safety and manages the Housing Hospitality Desk. She ensures that the concerns of residents are addressed and resolved in a timely manner.

Afshan joined the Columbia Housing team in May 2013 and is currently pursuing a degree in teaching.