Heat and Hot Water
Introduction
All Columbia Housing-owned and operated residence halls and Brownstones supply heat and hot water in accordance with New York City laws.
Heat Policy
According to New York City code (Local Law 86 of 2017) all buildings are equipped to provide heat.
Between the hours of 6:00am and 10:00pm, if the outside temperature falls below 55 degrees Fahrenheit, the inside temperature is required to be at least 68 degrees Fahrenheit.
Between the hours of 10:00pm and 6:00am, the inside temperature is required to be at least 62 degrees Fahrenheit.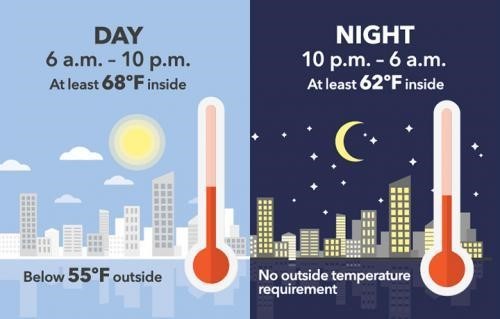 Heat delivery varies by residence hall.
Broadway, Carman, East Campus, Furnald, and Schapiro

Heat output in these buildings is regulated and will consistently run through your heating unit until the official conversion to cooling season. However, the temperature can be moderately adjusted using fan speed and valve control. 

47 Claremont, 600 W 113th, Brownstones, Carlton Arms, McBain, Ruggles, Watt, Wien, and Woodbridge

Heat output cannot be manually adjusted. The radiator valves in these residences are service valves, not control valves -- they should not be closed. The system is designed to operate in the open position. Adjusting the radiator valve in your room may impact the heat for the entire building and could also result in loud banging noises or increase the risk of unit leaks.

Harmony, Hartley, Hogan, John Jay, River, and Wallach

Heat is these buildings cannot be regulated by the student. It is controlled by a central system based on the outside temperature.
Hot Water Policy
Hot water must be provided 365 days per year at a constant minimum temperature of 120 degrees Fahrenheit.
Issues with heat or hot water can be reported to the Hartley Hospitality Desk or by submitting a Service Request. As the weather fluctuates, the temperature in your room may not always feel ideal. Please contact the Hartley Hospitality Desk to request a temperature reading and determine if the room temperature is appropriate for the season, or if additional measures need to be discussed with Housing.